The online application for NBI Clearance aims to reduce the long lines of applicants in applying to any NBI offices across the country. One can say that, this is a very efficient way of acquiring NBI clearance.
This system was started by the Department of Justice to accept applicants with an online appointment and it continues up to this date. However, there are still complaints from claimants, and DOJ is on the process to resolve these issues.
ANNOUNCEMENT: NBI Clearance Processing will strictly implement the "No Appointment No Entry Policy" for NBI clearance applicants. No appointment will be available on the same day of application. All NBI Clearance applicants are advised to register online and have their appointment date set in advance.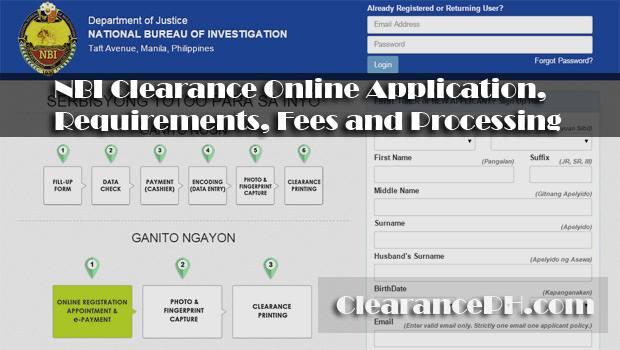 Furthermore, here's the step by step guide on how to apply for NBI Clearance.
1. Go to the NBI website www.doj.gov.ph/nbi or www.nbi.gov.ph.
2. Completely fill out the detailed form for the online application. Provide correct and valid information throughout the process. The drop-down menu also has the necessary details for your application.
Once done, click the submit button. Another page will open up and it will let you fill out the form for you contact details and family background. Be sure to provide valid information for these fields, more importantly, the e-mail address since they will be sending a confirmation message for your application there. Click Submit.
The processing fee ranges from P115 to P415, depending on the purpose of the transaction. Here are the list of valid IDs that you can present:
• Voter's ID
• Valid passport
• SSS ID
• GSIS UMID
• Postal ID
• Driver's License
• PRC License
• TIN ID
• School ID
• Philhealth ID
• Alien Certification of Registration
• Senior Citizen
3. Print out the form after successfully registering online. Secure the registration code since you'll be needing it for future use.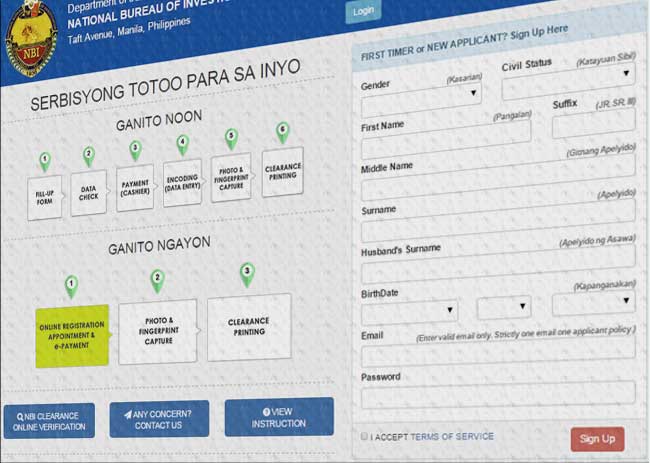 4. Go to the nearest NBI Clearance center and provide two valid IDs, registration code and the payment for your clearance.
5. Proceed to the area for image taking and fingerprint biometrics.
6. 'No Hit' applicants, means you have no criminal records, you can now proceed to the printing area and get your NBI Clearance. For 'With Hit' applicants, you will need to come back as advised by the clerk for your receipt.
In case you are advised to proceed to the Quality Control Section, you will need to be reviewed by the interviewer before the issuance of the NBI Certificate.
READ: NBI Clearance Complete List of Offices and Regional Branches