Immediately after college graduation, most Filipinos would embark their way to job hunting. However, one of the challenges that they would encounter is the government documents being required before they can secure a job.
It is quite ironic that to get a source of income, you would still need to shell out some money. Thus, Senator Joel Villanueva seeks to exempt both fresh graduates and school dropouts the required fees when securing government documents for employment.
Villanueva passed the Senate Bill No. 1426 or the "First-time Job-seekers Assistance Act" which would spare new graduates and dropout seeking for a job from the burden of having to secure pre-employment documents which in turn could trigger a 'loss of motivation' to join the labor force.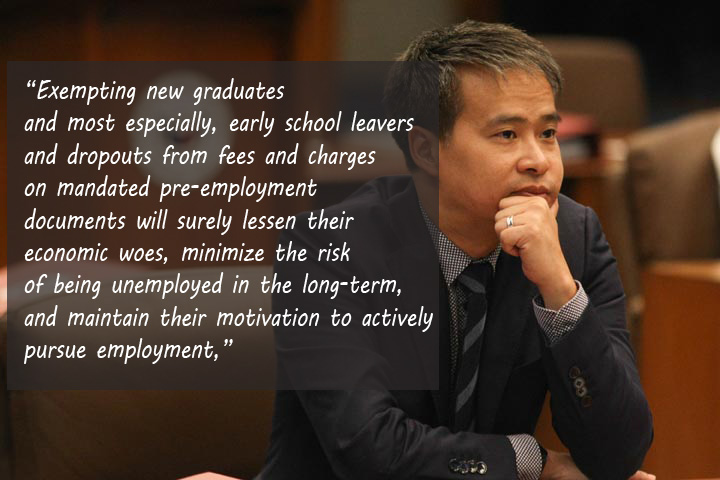 He pointed out that some of these job-seekers could have the necessary skills, but due to pre-requisites like NBI clearance, birth certificate and so on, could not be employed.
The Senate Bill No. 1426 would waive government fees and charges for application and granting licenses, proof of identification, clearances, certificates and other documents necessary in seeking employment both abroad and locally.
Among those listed are the National Bureau of Investigation (NBI) Clearance, birth certificate from PSA, tax identification number (TIN) from BIR, and community tax certificate or cedula. The bill would also exempt first-time job seekers from paying barangay clearance, medical certificate, marriage certificate, certification of eligibility, and other government-issued documents that may be required by employers.
Villanueva believes that this will be a good tactic to connect first time jobseekers to labor opportunities.
"Exempting new graduates and most especially, early school leavers and dropouts from fees and charges on mandated pre-employment documents will surely lessen their economic woes, minimize the risk of being unemployed in the long-term, and maintain their motivation to actively pursue employment," Villanueva said.
For an applicant to avail of the exemption, he or she must present a certified true copy of diploma or certification of leave of absence (LOA) from the concerned academic, vocational or technical institution as proof that the individual has completed the course required or has earned academic units.
However, the exemptions do not include fees and charges collected in connection with an application to take a professional licensure examination from Professional Regulation Commission, Career Service Examination, Philippine passport and driver's license.