Solo parents as well as their children are covered by the Republic Act No. 8972, which states that they services, privileges and benefits are given to them.
Here are the qualifications, requirements, procedure and benefits.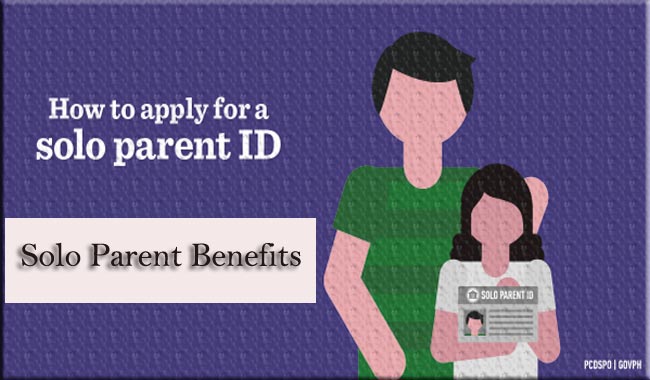 Qualifications:
According to the Republic Act 8972, a solo parent is qualified if:
They gave birth because of cases such as rape and other crimes as long as the mother holds custody of their child.
Parent left by the responsibility to raise the child according to these circumstances:
Death of spouse
Detained spouse or still serving his/her sentence for a minimum of one year.
Incapability of spouse due to physical and mental condition.
Legal separation for one year (one of the parent must have the custody of the child).
Annulment of marriage as long as he/she has the custody of the child.
Not married parents who chose to take custody of their child instead of entrusting them to other or a welfare institution.
Any person who provides care and support to a child.
Any member of the family who takes the responsibility after incidents such as death, abandonment and so forth, of the child's parent.
Criteria For Support
Cases like insufficient income of the solo parent which is set by National Economic and Development Authority and assessed by DSWD. The solo parent should inquire from these agencies to avail services such as:
Health Services
Educational Services
Housing
Parental Leave
Requirements and Procedures
Submission of requirements
Birth certificates of children, death certificate of spouse and other supporting documents.
The documents are checked by the social worker and the registration takes place at the Registry of Solo Parents.
The solo parent ID will be given after 30days of the filling period.
Benefits:
Work schedule is flexible
The employer should provide a work schedule which is flexible for the solo parent, as long as the schedule won't affect the activities of the company.
No work discrimination
Work discrimination is prohibited in the solo parent's work or any other place.
Parental Leave
Seven days of parental leave is given to any solo parent.
UPDATE: There are some people asking where to apply, You can go to any DSWD office near you for the assessment of eligibility.
READ: NBI Clearance Online Application