NBI Clearance has been one of the most required documents for transactions with both government and private offices. Before, the process of obtaining a clearance is both gruesome and time-consuming, but with the recent reforms, applicants are now finding it more convenient.
The launch of online application and payment for NBI clearance has made things easier for Filipino citizens, but it doesn't stop there. Soon, applicants would no longer have to pay different fees or required to obtain two different clearances for different purposes.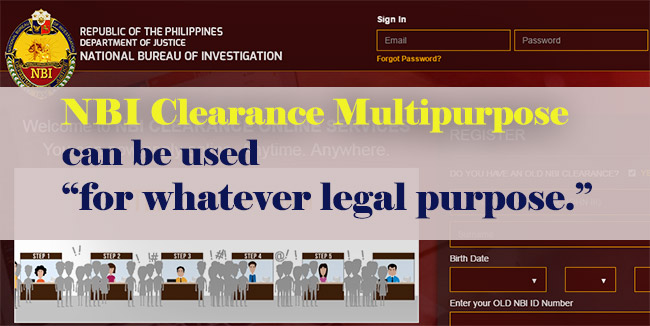 Department of Justice announced that the NBI clearance would soon be multipurpose, meaning it can be used "for whatever legal purpose." Currently, you would be ask what how would you use the document (e.g. Passport, License, Employment).
According to Justice Aguirre, "The Unified NBI Clearance system is our answer to the needs of our people who are faced with the modern demands for record-keeping and civilian identification… Once the NBI clears an applicant, he is cleared for whatever purpose."
Aguirre also issued a memorandum to the National Bureau of Investigation to implement his directive. It will be effective 15 days after notices have been published in at least two newspapers of general circulation.
READ: NBI Clearance Online Registration
As of now, there are over thirty 'purposes' when applying for an NBI clearance with prices ranging from Php 115 to Php 415.  It is unclear though how the recent memorandum would affect the different prices of the clearance per purpose, or if the current minimum fee of the NBI clearance would increase.