The National Bureau of Investigation (NBI) has recommended to charge eight people of charge in connection with an alleged multi-million printing deal with three private companies of some current and former officials of the National Printing Office (NPO).
In a formal letter by NBI Director Dante A. Gierran to Ombudsman Conchita Carpio-Morales, the following people were identified by the NBI's antifraud division; NPO Director Sherwin Prose C. Castañeda, former officer-in-charge Rolando L. Caluag, employee Myralyn P. Soriano, retired employee Ruben G. Dancel, Western Visayas Printing Corp. Vice-President Edwin D. Malapajo, Bestforms, Inc. President Benjamin L. Yam, Triprint Corp. President Ramil V. Tamayo, and Metrocolor Corp. General Manager Clso S. Viray.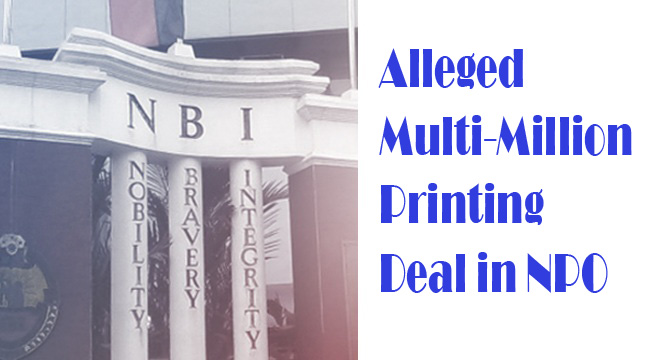 Upon investigation, NBI has discovered that during a multi-million contract awarded by the Social Security System (SSS) to the National Printing Office, the said violation occurred. NPO should purchase 870,000 pads of contribution payment for the fiscal year of 2016.
The NPO assigned the first work order of one-year equipment lease agreement for printing machines to four printing firms. It was given to Western Visayas Corp. for Php73.6 million. After one week, Castañeda and Dancel dropped the deal and awarded three new work orders to Betforms for Php33.4 million, Triprint for Php16.9 million and Metrocolor for Php14.8 million.
According to the report of NBI, the movement of work orders was 'discretionary on the part of the NPO' because the said government agency did not lay down any guidelines when it picked a printer. Furthermore, under NPO's deal, the agency will pay the companies "after the completion of the job/work order on running basis."
Under Republic Act No. 3019 or the Anti-Graft and Corrupt Practices act, subcontracting such as the one done by NPO is prohibited.
It was also discovered that under the contract, NPO received 15% share of the profits while 85% went to private companies.
"This is clearly disadvantageous to the government and punishable under RA 3019 also known as Anti-Graft and Corrupt Practices Act," the NBI said.