A building clearance or permit is a license needed in many jurisdictions for new development, or adding something to the pre-existing structures, and at times for significant redesigns or renovations. For the most part, the new development must be reviewed amid development and after fulfillment to guarantee consistencies with national, provincial, and local construction standards.
Inability to get a grant can bring about specific fines and punishments, and even annihilation of unapproved development if the building couldn't meet the code.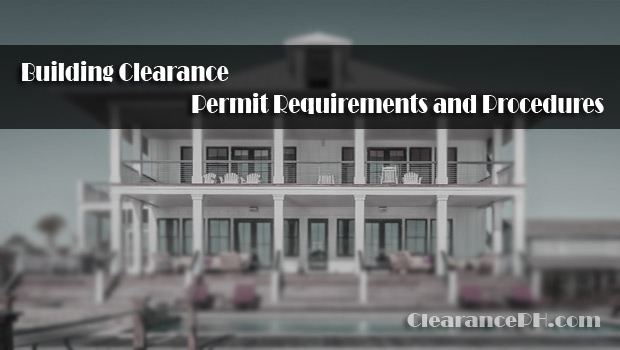 Building Permit Requirements:
Applications forms signed by engineers for:
Building Permit Forms
Electrical Permit Forms
Sanitary Permit Forms
Detailed Plans (5 copies)
For two-storey building construction, secure a Structural Design Analysis approved and signed by the Civil Engineer.
For more than two-storey building construction, secure;
Boring and Plate Load Test
Seismic Analysis
Proof of Property
Photocopy of Transfer Certificate
Photocopy of Tax Declaration of Property-lot
Photocopy of Current Tax Receipt
For properties which are not registered under the applicant's name:
Contract of Lease
Contract of Sale
Affidavit of Consent issued by the lot owner
Deed of Absolute Sale
Permit Billboard
Bill of Materials and Specification – this should be signed by the engineer.
Locational Clearance
PTR # and PRC license of your engineers and architects.
For construction located beside National Highways, secure clearance from DPWH.
DOLE Clearance
Building Permit Procedures:
Secure the requirements– you can have the checklist of the requirements at the municipal's office. Your engineers should be the one to fill up the said forms.
Submit the forms at the Office of the Building Official. They will advise you to go to the Assessor's Office.
An Acknowledgement Slip will be issued to you. They will advise you to check the status of your application after 10 working days. An Order of Payment will be given to you once the application is approved.
Pay your dues at the Treasurer's Office. Fees depend on the size of the building, usually starts at P6,000.
The Official Receipt (photocopy) should be brought to the Office of the Building Official.
The processing usually takes 5 working days. You should be back at the Office of the Building Official for claiming of your building permit.